President Akufo-Addo is set to address the nation tonight on measures his administration has put in place to intensify the fight against the COVID-19 pandemic.
The 27th address, to be delivered at 8:00pm, comes at a time when the country has recorded some 41 cases of the Omicron variant of COVID-19.
As part of efforts to get more Ghanaians to vaccinate against the virus, the government has introduced new measures, including a mandatory vaccination drive at the Kotoka International Airport (KIA).
So far, a total of 664,810 tests have been carried out at the Kotoka International Airport (KIA). Out of this figure, 3,380 came out positive.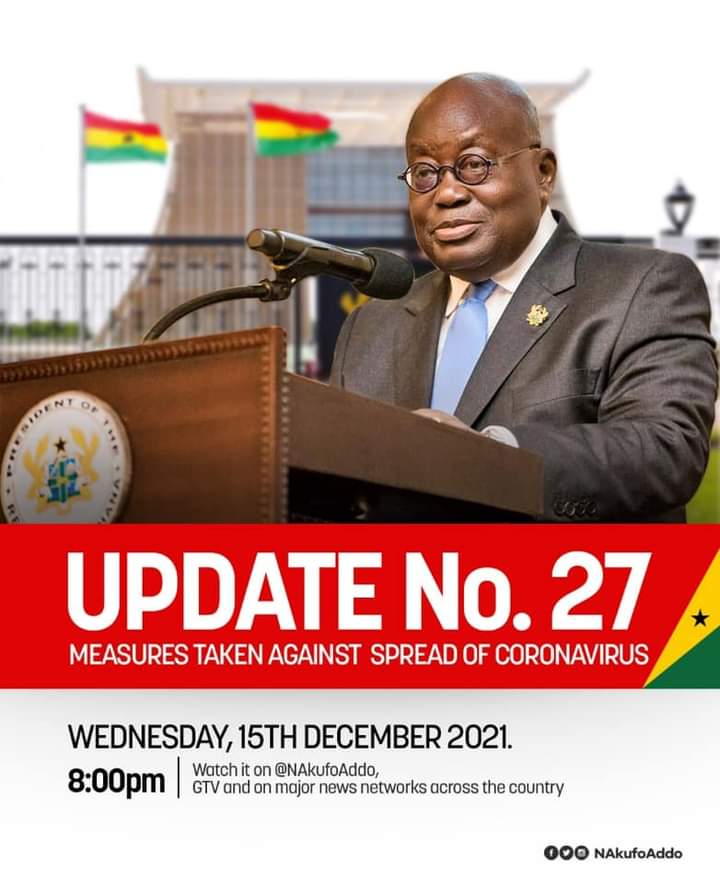 Health officials have directed that all persons 18 years and above arriving in Ghana from December 12 must provide proof of full vaccination.
Meanwhile, all immigrants who have not been inoculated upon arrival at KIA will be vaccinated before they can be permitted to enter the country.
According to a press release signed by GHS Director-General, Dr Patrick Kuma-Aboagye, out of the 34 Omicron cases detected at the airport, 75% of them were by people not vaccinated.
"Over the last two weeks, cases from the airport account for about 60% of the total cases recorded in the country," he added.
While some groups have kicked against the initiative, others believe it is a step in the right direction as the country fights to avert a possible spread of the virus during the festive season.
COVID-19 updates
The Ghana Health Service (GHS) has recorded 8 more deaths in the country's fight against the Covid-19 pandemic.
These casualties were recorded in two days. This brings Ghana's death toll to 1,251 as of December 10.
In the Service's previous update, the number of Covid-19 related deaths as of December 8, stood at 1,243.
Meanwhile, a total of 854 active cases have been recorded; bringing the country's total confirmed cases to 131,718.
About 22 individuals are reported to be in severe condition.
Since December was declared the month of vaccination, about 864,763 doses of vaccines have been administered between December 1 and December 14.
In total, over 6,420,973 doses of vaccines have been administered by the GHS. Again, 132,721 students between the ages of 15 to 17 years in 13 regions have been vaccinated.
There are no records for the Western North, Savannah and Oti Regions but in the Eastern Region, 25,640 students have been inoculated.
source: My Joy Online