There are many great players from our continent who have written their name in African football history.
All of them played an essential or vital role in football development over Africa, giving hope to millions of children all over the continent.
Some of the great African players to get to the top include George Weah, Austin Jay Jay Okocha, Hossam Hassan Hussein, Yaya Toure, Roger Milla, Rashid Yekini, Didier Drogba, Nwankwo Kanu, Samuel Eto'o, Abedi Ayew, Asamoah Gyan, Baba Yara, Rabah Madjer and a host of other great players.
But only a few of the recognized African legends got the chance to play at the FIFA World Cup.
Here is our list of some the great players from African players to be at the World Cup.
Roger Milla – Cameroon (1952)
Milla was born in 1952 and is one of the first Cameroonians who played on the international stage. He was part of the Cameroon team that beat then world champions Argentina 1-0 in Italy 1990. The team went on to become the first African side to reach the World Cup quarter-final.
He holds the record for the oldest player to score a goal at the World Cup.
Roger Milla played for Monaco and Bastia in France and won the French Cup in 1980 and 1981. He has also won the African Cup of Nations twice.
Didier Drogba – Ivory Coast (1978 )
Drogba is most known for his ability to score, speed and passing. He was African footballer of the year twice and won 3 premier league titles, FA Cups, and the Champions League all with Chelsea. He was dubbed as the 'King of Wembley' as he scored in all the games he played at the stadium.
At the international level, he scored 65 goals in 104 matches and is so far the top scorer of this team. He also won the golden boot twice in the English Premier League. In Chelsea's history, he is considered as one of their greatest player ever.
However, he could not win a trophy for his country as they lost in the 2006 and 2012 African Cup of Nations final to Egypt and Zambia respectively.
Jay Jay Okocha – Nigeria (1973)
Augustine Azuka earned the honour of being named the 'Best Nigerian' football player in 1995, 1997, 2000, 2002, 2003, 2004 and 2005. Okocha scored 85 goals in 454 matches.
Jay Jay played for PSG, Eintracht Frankfurt, Hull City and captained Bolton Wanderers. In international competitions, he played in 1998 FIFA World Cup, Olympic Games in 1996 in Atlanta and also Africa Cup of
Nations his last one being Tunisia 2004. In 1994, Nigeria lost to Italy in the World Cup.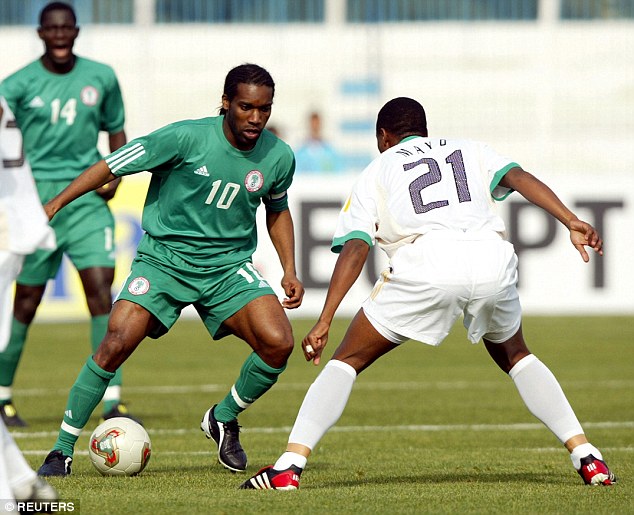 Yaya Toure – Ivory Coast (1983)
He is called the 'Human train" due to his versatile football abilities. He often changed from offensive to defensive stances and played in the midfield. He has earned the title 'African Football player of the year' 4 times in a row.
He used to be a striker during his youth stage and played centre back during UEFA Champions League in 2009.
He has played for a number of teams including Barcelona and Manchester City but it is at the later that he made his name.
He has won the FA Cup, League Cup, EPL, Copa Del Ray, La Liga, UEFA Champions League and in 2015 lifted the African Cup of Nations trophy for his country.
Samuel Eto'o – Cameroon (1981)
Samuel Eto'o Fils is the most decorated African footballer of all time. The Cameroonian striker currently plays for Turkish side Konyaspor and has played for the top clubs in Europe.
Eto'o has played for Real Madrid, Barcelona, Inter Milan, Chelsea, Everton as well as other clubs. At a point in time, he was the highest paid football on the planet when he moved to Anzhi in Russia. At the club level with Barcelona, Eto'o won La Liga 3 times, Copa del Rey in 2009, Supercopa de Espana 2 times and Champions League in 2006 and 2009. Also, he won Copa del Rey in 2003 with Mallorca.
At Inter Milan, he won Serie A in 2009, Coppa Italia in 2010 and 2011, Suppercoppa Italiana in 2010, Champions League in 2010 and FIFA Club World Cup in 2010.
Eto'o has also won two trophies for his country. In 2000 and 2002, he was part of the Cameroonian side that lifted the trophy and in 2008 he led his country to second place in Ghana 2008.
He has been named African Footballer of the year on 4 occasions, Young African Player of the Year in 2000, named 4 times in ESM Team of the Year, won the bronze award for FIFA World Player of the Year in 2005, etc.
Nwankwo Kanu – Nigeria (1976)
A member of Arsenal's invincible team made it on our list of the top African players who made it to the top of world football at the club level and represented their country at the top level.
Nwankwo Kanu was part of the Arsenal team that went unbeaten in the EPL. Kanu played for Iwuanyanwu Nationale in Nigeria, Ajax, Inter Milan, Arsenal, West Bromwich Albion and Portsmouth.
Kanu won the African Footballer of the year twice, UEFA Champions League with Ajax, UEFA Cup, 3 FA Cups, EPL and is also an Olympic Gold Medalist. He also won the U-17 FIFA World Cup for his country in Japan in 1993.
In 2010, Kanu retired from international football when Nigeria existed from the World Cup in South Africa.
He retired with 13 goals for his country.
Asamoah Gyan – Ghana (1985)
When it comes to club level, Asamoah Gyan cannot be compared to the other player on the list but at international level, Gyan has his name in the history books.
Gyan currently holds the record for the most goals at the World Cup by an African with 6 goals and also holds the record for the only player to have scored in 9 consecutive international tournaments.
At club level, he has played for Rennes, Udinese but it was at Sunderland that he made his name.
He spent one year in the EPL and moved to the Middle-East. He currently plays for Kayserispor in Turkey.
He was awarded the BBC African Footballer of the Year in 2010 and made to the list of CAF Team of the Year on three occasions. Gyan won most of his awards and all his trophies in the Middle-East.
Mustapha Hadji – Morocco (1971)
Morocco's Mustapha Hadji is the last player on our list of top attackers to have played at the World Cup.
Like Gyan, Hadji also did not at top clubs but it was at Coventry City that he made his name. Hadji also played for Sporting Lisbon, Nancy, Deportivo La Coruna, Aston Villa amongst others.
At the international level, Hadji played at the 1994 FIFA World Cup in USA and 1998 World Cup in France. He scored a goal against Norway in a 2-2 in 1998 and was awarded the African Footballer of the Award after the Tournament.